Faith Practice #3 Reading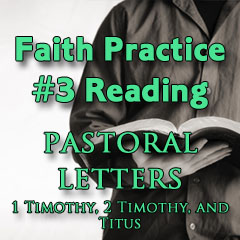 Item number three on our list of Seven Faith Practices is "read and study the Bible."   Each week we, as a congregation, will be reading one chapter from a book of the Bible.  Currently we are reading from Paul's letters. 
Paul's "Pastoral Letters" (1 Timothy, 2 Timothy, and Titus) were written to his coworkers in the gospel, Timothy and Titus, to guide them in matters concerning the care of the church.  These are likely written to churches Paul founded and these two men have stayed on to minister to.  These are called "Pastoral Letters" because of their strong bearing on the life of the church, which is the household of God
We will continue with our "one chapter per week" schedule.  I hope you will consider joining with us as we practice our faith!  (Questions will be asked the week following the reading; e.g. questions based on 1 Timothy chapter 1, read the week of December 31, will be asked before worship on January 5/6.)
The reading schedule is listed below.
---
Pastoral Letters reading schedule
for the week starting…
December 31 – 1 Timothy 1
January 7 – 1 Timothy 2
January 14 – 1 Timothy 3
January 21 – 1 Timothy 4
January 28 – 1 Timothy 5
February 4 – 1 Timothy 6
February 11 – 2 Timothy 1
February 18 – 2 Timothy 2
February 25 – 2 Timothy 3
March 4 – 2 Timothy 4
March 11 – Titus 1
March 18 – Titus 2
March 25 – Titus 3
---