Faith Practice #3 Reading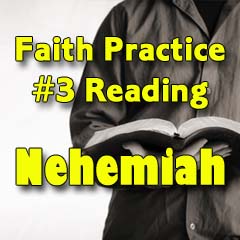 Item number three on our list of Seven Faith Practices is "read and study the Bible."   Each week we, as a congregation, will be reading one chapter from a book of the Bible.  Currently we are reading from the book of Nehemiah. 
At the beginning of the book, Nehemiah serves as the cupbearer to King Artaxerxes. His job is to ensure that the king's wine is not poisoned, but safe to drink, thus Nehemiah has full access to the king. Upon learning that the walls of Jerusalem are piles of rubble and that God's people are vulnerable, Nehemiah petitions and receives permission from King Artaxerxes to travel to Jerusalem and rebuild the walls of the city. The cupbearer to the king becomes a builder of the wall, and in the process, rebuilds God's people into a nation. 
The reading schedule is listed below.
---
Nehemiah reading schedule
September 3 – Nehemiah 1
September 10 – Nehemiah 2
September 17 – Nehemiah 3
September 24 – Nehemiah 4
October 1 – Nehemiah 5
October 8 – Nehemiah 6
October 15 – Nehemiah 7
October 22 – Nehemiah 8
October 29 – Nehemiah 9
November 5 – Nehemiah 10
November 12 – Nehemiah 11
November 19 – Nehemiah 12
November 26 – Nehemiah 13
---