Faith Practice #3 Reading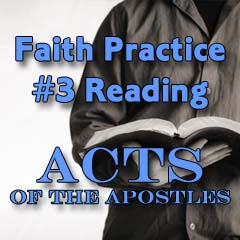 Item number three on our list of Seven Faith Practices is "read and study the Bible."   Each week we, as a congregation, will be reading one chapter from a book of the Bible.  Currently we are reading from the book of Acts (Acts of the Apostles), the one historical book in the New Testament.  It is a continuation of Luke's Gospel and tells the story of the early church.  (Where Jesus was the main character in Luke's Gospel, we could say the Holy Spirit is the main character in Acts.)  In this book we read how the Holy Spirit created and shaped the early church, through the acts of the apostles.  The story is told mainly through the actions of two of the apostles – Peter and Paul. Peter was one of Jesus' original twelve apostles. Paul was not one of the original apostles, but he later adopted that title for himself.
The reading schedule is listed below.
---
Acts reading schedule
Acts 1 – January 1
Acts 2 – January 8
Acts 3 – January 15
Acts 4 – January 22
Acts 5 – January 29
Acts 6 – February 5
Acts 7 – February 12
Acts 8 – February 19
Acts 9 – February 26
Acts 10 – March 5
Acts 11 – March 12
Acts 12 – March 19
Acts 13 – March 26
Acts 14 – April 2
Acts 15 – April 9
Acts 16 – April 16
Acts 17 – April 23
Acts 18 – April 30
Acts 19 – May 7
Acts 20 – May 14
Acts 21 – May 21
(Acts 22-28 we read at the beginning of the Prison Letters selection late last summer.)
---