Shawn O'Brien, Pastor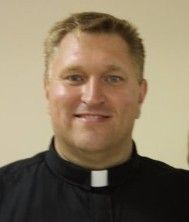 Pastor O'Brien graduated from the University of Cincinnati with a Bachelor Degree in Criminal Justice and Trinity Lutheran Seminary (Columbus, OH) with a Master of Divinity degree.  He has been serving St. John since 2009.  (He previously served at Gloria Dei Lutheran Church in Crestview Hills, Kentucky and St. John's Lutheran Church in Miamisburg, Ohio.)
He and his wife Megan (who is the Mission Advancement Coordinator at Luther Home of Mercy) have two sons Aidan and Shane, who are both Genoa Comets.  The O'Briens enjoy spending time together as a family (whenever they can find it), especially traveling to new locations, camping, and seeing God's beautiful creation.
In addition to his responsibilities at St. John, Pastor O'Brien is also involved in the Genoa Ministerial Association, he is one of the North Central Conference Triad coordinators, he has served on the Northwestern Ohio Synod Council, the Southern Ohio Synod Worship and Music team, the Mission Strategy Team for Congregational Services, also in the Southern Ohio Synod, and variety of other committees and boards. 
In his free time Pastor O'Brien enjoys reading Science Fiction (inspired by a love of Star Wars), biking, swimming, and hiking.
You can contact Pastor O'Brien by email here.
LisaAnne Gregg, Office Administrator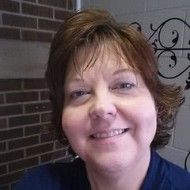 LisaAnne joined the staff at St. John in April 2016 after a 30+ year career in Public Service. LisaAnne grew up in nearby Millbury.  She lives in Graytown with her husband, Gary and their "fur-baby, a German Shepherd named Karma.   
LisaAnne has been active in her church for several years as secretary, treasurer and pulpit support and has been blessed to bring those experiences to her position at St. John. She is in the process of becoming a Local Licensed Pastor. 
In her off time, she and Gary enjoy travelling to Amish country, working at the local Food Pantry in Elliston, gardening, farming, and walking with their dog at different parks in the area.
Please stop in the office and say, "Hello!"  The coffee is always on!
Beckie Goldstein, Sunday Organist
Tami Tailford, Saturday Accompanist
Tami is a life-long member of St. John.  She started playing the piano for Sunday School when she was 9 years old.  Tami has been part of the Saturday music team since its creation and is always ready to welcome new voices into the group.
Paul Fredericksen, Custodian