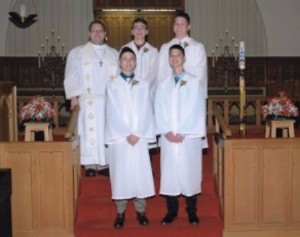 2017 Confirmation Class
Affirmation of Baptism, aka Confirmation, is when students accept responsibility for the promises to God parents made when they were baptized.
Baptism is a covenant relationship (a contract) between God and us. Since Lutherans baptize infants, many of us were baptized when we were very young and our parents and the congregation entered the covenant agreement for us. That means our parents and the congregation made promises to God on our behalf. Specifically, they promised to bring us to church, teach us the Lord's Prayer, the Creed, the Ten Commandments, the Bible, and provide for our instruction in the Christian faith. 
Therefore, confirmation classes are a time when the church helps parents fulfill the promises they made to God when their child was baptized. During the course of confirmation students will be taught the Lord's Prayer, the Apostles' Creed, the Ten Commandments, the Bible and other areas of Christian faith. The purpose of confirmation classes is to help students (confirmands) make an educated decision at the actual event of Confirmation.

St. John offers confirmation instruction to students in the 6th through 8th grade during the Sunday School hour (the weekend after Labor Day through Memorial Day). Contact the church office for more information.