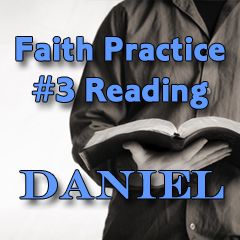 Item number three on our list of Seven Faith Practices is "read and study the Bible."   Each week we, as a congregation, will be reading one chapter from a book of the Bible.  Currently we are reading from the book of Daniel. 
We will continue with our "one chapter per week" schedule.  I hope you will consider joining with us as we practice our faith!  (When we resume gathering for worship, questions will be asked the week following the reading; e.g. questions based on Daniel chapter 3, read the week of June 1, will be asked before worship on June 7/8.)
The reading schedule is listed below.
---
Faith Practice #3 Reading Schedule...
for the week starting…
May 18 – Daniel 1
May 25 – Daniel 2
June 1 – Daniel 3
June 8 – Daniel 4
June 15 – Daniel 5
June 22 – Daniel 6
June 29 – Daniel 7
July 6 – Daniel 8
July 13 – Daniel 9
July 20 – Daniel 10
July 27 – Daniel 11
August 3 – Daniel 12