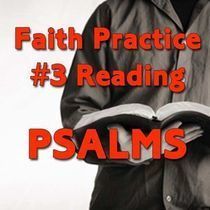 Item number three on our list of Seven Faith Practices is "read and study the Bible."   Each week we, as a congregation, will be reading one chapter from a book of the Bible.  Currently, we are reading from the book of Psalms. 
We will continue with our "one chapter per week" schedule.  I hope you will consider joining us as we practice our faith!  
The reading schedule is listed below.
---
Faith Practice #3 Reading Schedule...
for the week starting…
(Book 2)
Aug. 22 – Psalm 72
(Book 3) 
Aug. 29– Psalm 73
Sept. 5 – Psalm 74
Sept. 12 – Psalm 75
Sept. 19 – Psalm 76
Sept. 26 – Psalm 77
Oct.  3 – Psalm 78
Oct.  10 – Psalm 79
Oct.  17 – Psalm 80
Oct.  24 – Psalm 81
Oct. 31 – Psalm 82
Nov. 7 – Psalm 83
Nov. 14 – Psalm 84
Nov. 21 – Psalm 85
Nov. 28 – Psalm 86
Dec. 5 – Psalm 87
Dec. 12 – Psalm 88
Dec. 19 – Psalm 89
---
The Book of Psalms, which is generally believed to be the most widely read of all the books in the Old Testament, is part hymnbook, part prayer book, part wisdom literature, and part anthology of poems that express the religious feelings of the Israelites throughout the various periods of their national history. The subject matter of the Psalms is astonishingly broad. On one hand, it proclaims praise and prayer for God Most High (Psalm 50:14), and on the other, it embraces human experience as intimate as lamenting a lost mother (Psalm 35:14). The Book of Psalms has a special significance for understanding the religious life of ancient Israel. The prophets and scribes provide some insight concerning what the Hebrews thought, but the psalms give the clearest indication of what the Hebrews felt. Here, we find a revelation of the hopes, the joys, the sorrows, the loyalties, the doubts, and the aspirations of the human heart.
The Psalms are of varying length (but most are pretty short) and there are a lot of them, however, we will continue with our 'one chapter per week' reading plan.  Over the course of the next few years (150 Psalms!), we will discuss the different types of Psalms (lament, praise, worship, royal, etc.) and the different uses for Psalms.  One suggestion is praying through the Psalms.  Augustine of Hippo said, "If the psalm prays, you pray. If the psalm laments, you lament. If the psalm exalts, you rejoice. If it hopes, you hope. If it fears, you fear. Everything written here is a mirror for us." As you pray the Psalms, you will learn how to pray in every season, whether rejoicing with those who rejoice or mourning with those who mourn.