Faith Practice #3 Reading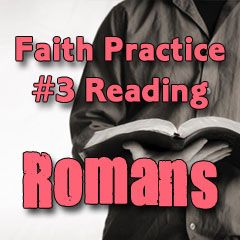 Item number three on our list of Seven Faith Practices is "read and study the Bible."   Each week we, as a congregation, will be reading one chapter from a book of the Bible.  Currently we are reading from the book of Romans. 
"This letter is truly the most important piece in the New Testament. It is purest Gospel. It is well worth a Christian's while not only to memorize it word for word but also to occupy himself with it daily, as though it were the daily bread of the soul. It is impossible to read or to meditate on this letter too much or too well." (Martin Luther's Preface to the Letter of St. Paul to the Romans)
The apostle Paul wrote this letter to the Christians in Rome, probably while in the city of Corinth on his third missionary journey, around the year 57 A.D. (Acts 20:2–3).  The church in Rome was comprised of Gentile believers who converted from idol worship and devoted Jews who believed Jesus was their promised Messiah. They were a diverse group of people. Problems arose when the Jews urged the Gentiles to undergo the rite of circumcision. Paul felt obligated to write, settling this argument and then fully explaining the grace of God.
The main theme of Romans can summed up in chapter 1, verses 16-17…
"For I am not ashamed of the gospel; it is the power of God for salvation to everyone who has faith, to the Jew first and also to the Greek. For in it the righteousness of God is revealed through faith for faith; as it is written, "The one who is righteous will live by faith."
We will continue with our "one chapter per week" schedule.  I hope you will consider joining with us as we practice our faith!  (Questions will be asked the week following the reading; e.g. questions based on Romans chapter 1, read the week of January 6, will be asked before worship on January 11/12.)
The reading schedule is listed below.
---
Faith Practice #3 Reading Schedule...
for the week starting…
January 6 – Romans 1
January 13 – Romans 2
January 20 – Romans 3
January 27 – Romans 4
February 3 – Romans 5
February 10 – Romans 6
February 17 – Romans 7
February 24 – Romans 8
March 2 – Romans 9
March 9 – Romans 10
March 16 – Romans 11
March 23 – Romans 12
March 30 – Romans 13
April 6 – Romans 14
April 13 – Romans 15
April 20 – Romans 16
---