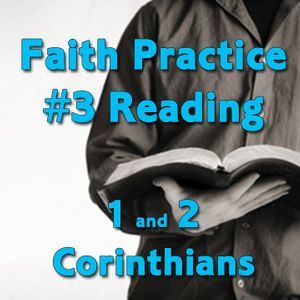 Item number three on our list of Seven Faith Practices is "read and study the Bible."   Each week we, as a congregation, will be reading one chapter from a book of the Bible.  Currently, we are reading from Paul's letters to the Corinthians. 
We will continue with our "one chapter per week" schedule.  I hope you will consider joining us as we practice our faith!  
The reading schedule is listed below.
---
Faith Practice #3 Reading Schedule...
for the week starting…
January 4 – 2 Corinthians 1
January 11 – 2 Corinthians 2
January 18 – 2 Corinthians 3
January 25 – 2 Corinthians 4
February 1 – 2 Corinthians 5
February 8 – 2 Corinthians 6
February 15 – 2 Corinthians 7
February 22 – 2 Corinthians 8
March 1 – 2 Corinthians 9
March 8 – 2 Corinthians 10
March 15 – 2 Corinthians 11
March 22 – 2 Corinthians 12
March 29 – 2 Corinthians 13
---
Corinth was a large, bustling city (located in southern Greece).  Because of its location, goods and people from around the world flowed in and out of its ports.  It was a center for art, philosophy, and religion.  It contained a number of pagan temples including large ones to Apollo and Aphrodite.  The city had a reputation for vice, immorality, and debauchery.  Paul spent 18 months establishing a church in Corinth during his second missionary journey (described in Acts 18). 
1 Corinthians (which may actually be the second letter Paul wrote to the Corinthians; the first was lost) was written around 54 AD.  It was in response to reports Paul received concerning problems in the church, disputed matters, and competing factions.  (The letter written to Paul has not survived.)
Overall, the letter calls this fractious congregation to unity, Paul reminds them their actions should be informed by love (chapters 8 and 13) and closes with an appeal to let this love be the governing power in the life of the community.
2 Corinthians is perhaps the most difficult to interpret of all Paul's letters.  Scholars think it is a combination of several fragments of different letters.  This makes it seem disjointed in places.  It is certainly a mixed letter, containing different styles and various elements; appeals, exhortations, rebukes, threats, attacks, counterattacks, self-defense, self-praise, and irony.