Faith Practice #3 Reading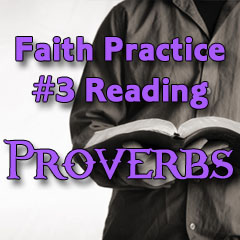 Item number three on our list of Seven Faith Practices is "read and study the Bible."   Each week we, as a congregation, will be reading one chapter from a book of the Bible.  Currently we are reading from the book of Proverbs. 
Proverbs comes from a section of the Old Testament called Wisdom Literature.  It is a collection of sayings written to uncover something true about the nature of reality in a way that makes the reader or listener wiser. As we read through these sayings, we should be aware that in the Bible, wisdom is rarely presented as a single decision, belief, or rule, but rather as a "way" or "path".  Those pursuing wisdom must continually seek the path amid the twists and turns of life.  We should also note that Wisdom is situational. It isn't just about knowing what to say; it's about knowing when to say it. That is why we will often find two Proverbs next to each other that seem contradictory.  Wisdom is not just about knowing what is true; it's about knowing when it's true.  As one commentator succinctly put it, "You reap what you sow – except when you don't."   
We will continue with our "one chapter per week" schedule.  I hope you will consider joining with us as we practice our faith!  (Questions will be asked the week following the reading; e.g. questions based on Proverbs chapter 1, read the week of April 29, will be asked before worship on May 4/5.)
The reading schedule is listed below.
---
Pastoral Letters reading schedule
for the week starting…
April 29 – Proverbs 1
May 6 – Proverbs 2
May 13 – Proverbs 3
May 20 – Proverbs 4
May 27 – Proverbs 5
June 3 – Proverbs 6
June 10 – Proverbs 7
June 17 – Proverbs 8
June 24 – Proverbs 9
July 1 – Proverbs 10
July 8 – Proverbs 11
July 15 – Proverbs 12
July 22 – Proverbs 13
July 29 – Proverbs 14
August 5 – Proverbs 15
August 12 – Proverbs 16
August 19 – Proverbs 17
August 26 – Proverbs 18
September 2 – Proverbs 19
September 9 – Proverbs 20
September 16 – Proverbs 21
September 23 – Proverbs 22
September 30 - Proverbs 23
October 7 – Proverbs 24
October 14 – Proverbs 25
October 21 – Proverbs 26
October 28 – Proverbs 27
November 4 – Proverbs 28
November 11 – Proverbs 29
November 18 – Proverbs 30
November 25 – Proverbs 31
---